LPC Peewee Red Win at MHL Tournament
---
---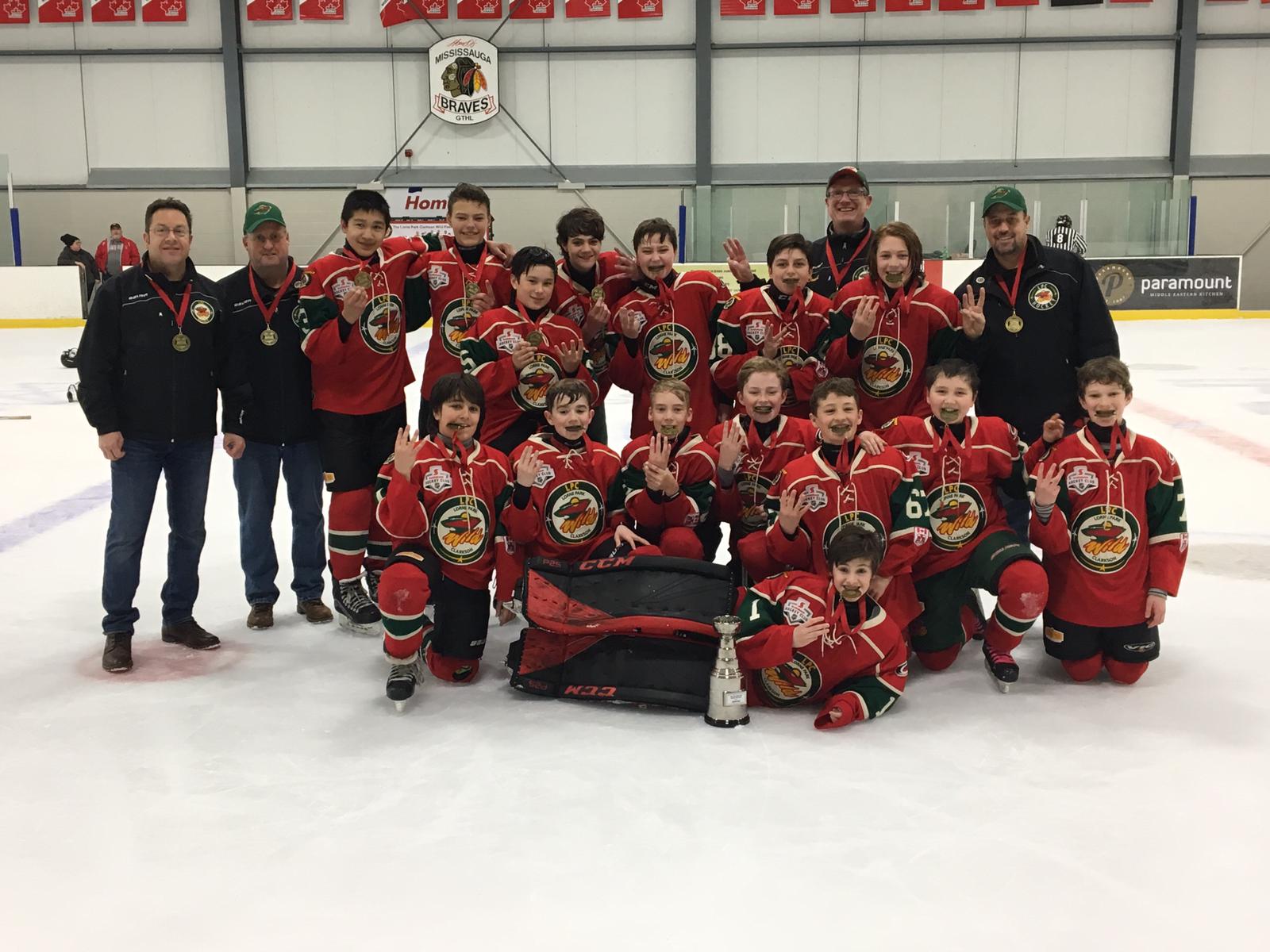 ---
LPC 072 Peewee Red of the Mississauga Hockey League capped off a storybook season with a hard fought victory on April 7, 2019 at the MHL Challenge Peewee Red/Select tournament. This marks the team's third straight tournament championship.
It took two and half minutes into overtime for LPC to ring up the game's first and only goal, and win the championship 1-0 against a very strong Caledon Hawks Peewee Select Team. Having tied their round robin game 1-1 against Caledon, the boys knew they were in for a tough battle for the championship. It was back and forth all game with both teams trading scoring chances, but the goal tenders stood tall and threw up shut-outs through three periods.
Overtime started at a furious pace until a Caledon defender tried a long stretch pass that just missed his winger and went for icing. On the ensuing face-off to the right of the Caledon goaltender, LPC overloaded the right side with both wingers. The draw wasn't cleanly won, and centre Dylan Poirier battled to get a quick shot at the net. From the right side, left winger Andrew Morcombe faded back and down toward the net and banged in the rebound for the game winner!
The victory was a euphoric end to an almost perfect season.
Silver Medal - Branford Church Hockey League House League Select Tournament (November)
Gold Medal - Canam Hockey Challenge Cup Tournament Montreal (January)
Gold Medal - Oakville Frank Sabatino Memorial Peewee Red/Select Tournament (January)
First Place and undefeated - Regular Season MHL Peewee Red (February)
Gold Medal Playoff Champions - MHL Peewee Red (March)
Gold Medal - MHL Challenge Peewee Red/Select Tournament (April)
A huge thank you from all the players and parents to the three non-parent coaches (Tony Tejerina, Head Coach; Jake MacNaughton, Assistant Coach; Craig McInnes, Assistant Coach) who gave of their time to develop our young players and teach them how to play as a team. The team couldn't have done it with you!
Lastly to the boys - you worked tirelessly all year at what times seemed like a never ending practice schedule, and it translated in your play. You played with heart and it showed. You grew immensely as hockey players, as a team, and as individuals. We are all so proud of how you conducted yourselves with grace and sportsmanship throughout the season, and of the young men you have become. We hope you take the memory of this incredible season with you for many years to come.